Everyone loves a clean house, but does anyone loves to clean their house?
While some of us enjoy cleaning our house, washing the dishes, or ironing our clothes, as it is part of our everyday household chores, most would agree that finishing it is a lot of work to do. One great way to organize your chore chart is to make a list of the things should be doing regularly, weekly, and monthly. Making beds, washing dishes after meals, and vacuuming dirt are part of our daily routine which prevents us from clutters and ready for guests anytime. Taking care of our laundry, floor moping, and scrubbing the toilet can be done on a weekly basis so that members of the family can help us with small chores. Whereas, changing your beddings, wiping your furniture, and sorting your closet and dresser can be a monthly task.
History of Vacuum Cleaner
The evolution of vacuum cleaner starts from the carpet sweeper or hoover.It is a device that uses an air pump to suck up dirt and dust from the floor, furniture, curtains, and all kinds of cloth. The first manual cleaner was invented in the late 60s by Daniel Hess from West Union, Iowa. The carpet sweeper collected dirt and dust through the rotating brush and bellows to generate suction.
Another model called "Whirlwind" was developed in 1869 by Ives Mcgaffey from Chicago. This is a bulky device and hard to operate but still commercially marketed and later was used to create a similar model in 1876 by Melville Bissell from Grand Rapids, Michigan.
The first motorized vacuum designs were made in the 20th century. This air blowing device known as pneumatic carpet renovator was patented by John Thurman of St. Louis, Missouri while another blown air system originally made by Corrine Dufour of Savannah, Georgia.
British engineer Hubert Cecil Booth and American invertor David Kennedy created a powered vacuum cleaner that uses air pump suction with a cloth filter and a steam engine system with pipes and hoses to reach every part of the building.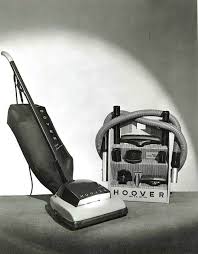 The portable vacuum cleaner was first built in 1905 by Walter Griffiths in Birmingham, England. It is a modern- vacuum apparatus which has been improved to remove dust from carpets that is easy to store and handle.
James Kirby developed vacuums in 1905 that used water for dirt separation called "Domestic Cyclone", but was later modified as Kirby Vacuum Cleaner. The first electric portable vacuum cleaner was invented by James Murray Spangler of Canton, Ohio in 1907 but due to lack of fundings, he sells the patent to William Henry Hoover, owner of Hoover Company. Their Model O upright vacuum cleaner includes beater bar and filter bags disposal.
The Fisker and Nielsen located in Denmark, Europe was the first company to sell vacuum cleaners in 1910 while Electrolux released their Model V with a feature of two thin metal runner enabling it to lie on the floor. Other companies like Vortek, started to market vacuum cleaners in 1930 through direct sales.
Types of Vacuum Cleaner
Vacuum cleaners vary in sizes depends if it used for homes or industries. The 10 Different Types of Vacuum Cleaners are as follows:
Upright Vacuum Cleaner
Upright designs take the form of a cleaning head which the handle and bag are attached to it. The beater bar serves as a dirt remover through the rotational sweeping and vibration. The most common upright vacuum cleaner uses a belt to drive power to the suction motor enable for the brush roll to rotate. There two types of upright; direct fan and bypass fan. Direct fan vacuum cleaners have large blade fans and short air paths that make the dirt passes directly and efficiently without requiring a high amount of power to make effective cleaning on carpets. On the other hand, bypass fan vacuum cleaner is in a recommendation for above-floor cleaning since the fans are smaller which need much power and are less efficient than the direct fan, although the suction does not reduce even with a distant hose.
Canister Vacuum Cleaner
Canister also popular Cylinder models have powerheads, that is changeable into other kinds of heads depending on the task to perform. The motor and dust collector is mountable on the wheels and is connected to the head through a flexible hose making it efficient on carpets.
Drum Vacuum Cleaner
The drum is the heavy duty version of the canister vacuum cleaner. Moreover, it consists of a large drum vertically positioned on the wheels that store up to 200 litres hooked to a compressed air to created partial vacuum in may workshops.
Wet and Dry Vacuum Cleaner
Wet and Dry are generally designed to clean up wet or liquid dirt that can be used for indoors and outdoors. It is in the form of drum models that has an exhaust port or blower that can be attached to reverse the airflow clearing the hose to make blowing dust easier.
Pneumatic Vacuum Cleaner
A pneumatic is a form of wet and dry models that is hooked up to compressed air used to accommodate industrial and manufacturing plants.
Backpack Vacuum Cleaner
The backpack is a small canister vacuum carried by users to move quickly in the large area and commercial cleaning.
Handheld Vacuum Cleaner
Handhelds are lightweight battery-powered or mains-powered vacuum cleaners use for cleaning wet and dry spills. It is advised to disassemble the device after cleaning wet material to avoid unwanted odours.
Robotic Vacuum Cleaner
Robotic is a form of carpet sweeper that consists of brusher and vacuum motor which works alone in collecting dust. It can steer around floors and furniture and return to the dock to charge and empty their dustbin. It can also be used in office, hospital, and other appropriate operation aside from cleaning our houses. The first robotic vacuum cleaner has the strongest impeller with the ability to scan and map the surface using a rotating rangefinder laser that was launched by Neato Robotic in December 2009.
Central Vacuum Cleaner
Central is commonly located in the centre of the building connected to metal or plastic pipes to inlets installed throughout the premises. It has a motor and dirt filter and the only thing needed to be carried in order to clean a room is the head and hose. A greater suction is an effect of having a central vacuum cleaner with its large fan and motor, it can remove all the dirt in the central unit. Also, with a big dirtbag, emptying can be done few times a year, not to mention the lesser noise it gives because of the remote location of the central vacuum cleaner.
Constellation Vacuum Cleaner
Constellation was marketed in the 1960s by the Hoover Company introducing a vacuum cleaner that floats on its exhaust and hovercraft operated which has a rotating hose and spherical shape intended to be placed in the centre unit of the room. The updated version is quiet, includes filtration bag, brush tool, motor, and redesigned handle.
Best Handheld Vacuum Cleaners
Handheld vacuum cleaner, compare to all kind of vacuum cleaners, is easier to hold, lighter, and can reach all sort of spaces. Here are 10 Best Handheld Vacuum Cleaners available in marketplaces today.
Black & Decker Dustbuster
This vacuum is one of the best cordless and quietest vacuum tested. It's effective in collecting sawdust, leaves, pet foods, and all kinds of messes in your carpets or other hard floors. The exhaust was at the back of the machine making your cleaning less and faster. Its battery can be charged in eight hours and can be used longer than the average. Black & Decker Dustbuster is a lightweight vacuum that offers a 2-year warranty.
| | |
| --- | --- |
| PROS | CONS |
| The quietest handheld vacuum ever tested. | It had a hard time sucking up the pet hair on the carpet. |
| Its exhaust is placed in the back so it won't blow the debris when cleaning. | Its charge time is longer than other vacuum tested. |
| The crevice and brush tools are incorporated into the vacuum's body. | It doesn't have a wide-mouth tool and attachable hose. |
2. Hoover Air Cordless
This vacuum is a small and lightweight but has longer running time, useful tools, and good cleaning capabilities. It can perform well in cleaning cars' upholstery, hard floors, and hard to reach spots that can make any home tidy and clean. Hoover Air Cordless comes with a mounted charger that is very convenient for any home user and guarantees a stronger cleaning power.
| | |
| --- | --- |
| PROS | CONS |
| This device has a HEPA filtration. | It doesn't come with an attachable hose |
| Has 2 reusable and washable filters. | Food Spill tends to stick inside and creates a bad smell. |
| It is small and easy to carry. | Poor quality of parts as the plastic bends and doesn't seal well. |
3. Eureka EasyClean
This vacuum is the most affordable vacuum made for all kinds of debris on different surfaces. It the best vacuum for cleaning pet hair which is the most common problem of other vacuums with 95% of hair being cleaned up. The screen flips up to clean carpets and upholstery, and turn the brush roll to deal with dust on counters and tables. It is also a corded vacuum which means it is applicable to be near an outlet but includes hose to help clean far areas. Also, Eureka EasyClean is one of the noisiest and heaviest vacuums in the list.
| | |
| --- | --- |
| PROS | CONS |
| The best on overall performance. | It was the second loudest vacuum in the list. |
| The brush tool is perfect for carpet. | It's hard to pick up sawdust on car seats. |
| It is the most effective vacuum in cleaning pet's hair. | It doesn't clean well. |
4. Black & Decker Pivot
This vacuum offers a unique nozzle that rotates while suctioning and doesn't require you to reposition. You can just point in a direction and it will do its job. Furthermroe, it has a rechargeable battery that can be complete in 6 minutes but can last up to 17 minutes. The three-stage filters keep it from any clogs and make sure to have a clean air at home. A few drawbacks of Black & Decker Pivot is that is extremely loud and struggles in cleaning hard floors.
| | |
| --- | --- |
| PROS | CONS |
| It charges quickly but can use longer. | The loudest vacuum tested. |
| The device has a stronger suction ability than others. | The device doesn't clean pet hair. |
| It only requires a small storage place. | It hard to clean on floor surfaces. |
5. Dirt Devil QuickFlip
This vacuum is a lightweight, portable, and handy in so many ways.You can take and use it anywhere without worrying if there is an available outlet, you just have to charge it. Furthermore, it is good for picking up sawdust on hardwood and carpet, but less effective in pet hair and car seat upholstery. Dirt Devil QuickFlip is a little short on battery life as it takes 6 hours to charge and can be used in just 13 minutes.
| | |
| --- | --- |
| PROS | CONS |
| It performed well in hardwoods and carpets. | It has a short battery life. |
| The dustbin is easy to empty. | The suction is weaker than other vacuums. |
| It is lightweight and compact. | It doesn't do well in picking up debris in crevices. |
6. Dyson V6 Trigger
This vacuum has a nice design with its signature hand of Dyson Brand. It has a quick-release button so that you can empty the bin with just a click. The Lithium battery can be charged faster than other any vacuum. Dyson V6 Trigger has boost mode to help you in sucking up bits and fits in all areas.
| | |
| --- | --- |
| PROS | CONS |
| It has a nice design that is comfortable and convenient to the user. | It is quite expensive. |
| It has easy to use controls. | The vacuuming power doesn't match up the price. |
| The device is lightweight and compact. | It has a small dust capacity. |
7. Dirt Devil Accucharge
This small and lightweight vacuum promise to run for a long time. Its unique feature is that the charger actually reduces power usage when the battery is fully charged; about 70% of energy is reduced. Dirt Devil Accucharge has also known for its old-fashioned design with a removable filter did poorly on several tests. It not the worst vacuum but doesn't level up to the others in the market.
| | |
| --- | --- |
| PROS | CONS |
| The time for charging is 6 hours and can be left behind without overcharging it. | It is noisy. |
| It has an easily removable filter. | The device struggles with vacuuming large pieces of dirt. |
| The handle is foldable so it doesn't consume a lot of storage. | The dirt container is small. |
8. Shark Pet Perfect II
This vacuum was specially made for pet hair scattered on carpets and seat upholstery. It comes with a charging stand that is small and can make room for other tools in the storage. The filter is spacious enough to carry debris and can be open by pressing a button. Shark Pet Perfect II is one of the perfect choices if you want to have a small and quite cleaner with separate attachments.
| | |
| --- | --- |
| PROS | CONS |
| The charging stand makes it organized. | It has a short run time yet has to take long hours of waiting to be charged. |
| The removable batteries can be replaced. | Attachment can fall easily If not secured well. |
| It has a crevice and brush tool that makes it versatile. | The dirt container is small. |
9. Bissel Pet Hair Eraser
This vacuum is one of the best pet hair cleaners that pet owner loves to have. It is very affordable, simple, and excellent in suctioning with its two attachments: pet hair and flathead. It was the only vacuum on the list that got a perfect score for pet hair removal. Although Bissel Pet Hair Eraser designed to have high power suction, the debris went over the place so it has to be redone.
| | |
| --- | --- |
| PROS | CONS |
| The best in pet hair test. | It is a corded vacuum and has a limitation when it comes to portability. |
| Bissel Pet Hair Eraser performed very well on the suction test. | It is one of the heaviest on the list. |
| This is a low-cost type of vacuum. | It lacks crevice tool. |
10. Metro Vac Vac N Go
This vacuum is one of the lightest on the list so you can carry it anywhere you go. Claiming to be the most powerful vacuum on the planet, the test results show otherwise. Unlike other cordless vacuums, this particular model does not have a rechargeable battery. Unfortunately, Metro Vac Vac N Go scored poorly in all tests compared to other vacuums on the list.
| | |
| --- | --- |
| PROS | CONS |
| It is very light. | It doesn't have a rechargeable battery. |
| Metro Vac Vac N Go has a sturdy steel casing. | The dirtbag is very small. |
| The crevice tool is a plus. | It is less effective compared to its competitors. |
Important Features to Consider
A perfect vacuum must have a rechargeable Lithium battery to be versatile. Lithium batteries have a high power density that can last longer hours, the lightest of all metals, and can assure the user that its suction power won't lose during usage.
Handheld vacuums are made to carry and so being lightweight is plus for consumers. Cleaning houses could take hours and use a heavy vacuum will just add up to their tiredness and stress. Also, you can easily move it if it is lighter.
Brush tools are very much needed for pet hair removal. Furthermore, with its bristles is can easily pick pet's hair and will result in a cleaner space. Also, crevice tool is best suited for cleaning car seat upholstery. The more the attachment a vacuum offers, the more it will be useful for cleaning.
Comfort is the key to finding tools we needed to use. Having household chores to do, the last thing you need is to make everything harder for you, feeling comfortable in what you use can make you finish the task easily.
Corded vacuum can give you a long time to clean your house but it can be difficult in reaching places that are far from the outlet. Cordless vacuum limits your runtime but you can carry it anywhere.
The Final Judgment
Let's face it; doing an errand is a nightmare to most, especially for children, teenagers, and even to adults. It's hard to resist the thought of lying down, relaxing, watching your favourite movie or TV series, checking your social media accounts, as well as to just rest. Doing chores doesn't have to be boring or to be a negative thing to us. We switch our thought to something positive that can help you enjoy doing your household chores. Think of it as a part of your daily exercise, or doing something helpful to your parents and loved ones, or it could be a way to unfocused yourself to life problems.
With technologies everywhere, you can finish tasks in just a blink of an eye. You just have to choose the best product that will suit your needs. Furthermore, the list of the chores you need to do in a day, week, and month doesn't end and the best remedy is to use things that can make your work easily and quickly done. If you want to finish your laundry in a span of time then use a washing machine, if you want to cut the grass on your lawn effectively and efficiently then use a lawnmower, and if you want to get cleaning fast, then choose the best handheld vacuum available in markets today.
My Opinion…
If I would have to recommend one choice from the 10 handheld vacuum cleaners on the list, I would go take into consideration their pros and cons. The most important key to choose a vacuum is the vacuuming performance, something that can vacuum well and vacuum fast. You'll take for granted the price, size, sound, etc. because at the end of the day the vacuum that can help us more will be the one we should get. So I highly suggest that you go ahead and buy Black & Decker Dustbuster. Although it doesn't focus on pet's hair and charge longer, it got the highest vacuuming performance from the bunch and is the quietest handheld vacuum in the list.
You prefer another vacuum? Share it in the comment section!